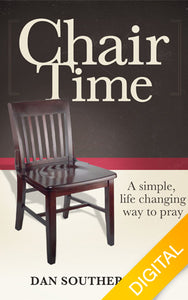 A simple, life-changing way to pray.
Everyone prays in a crisis.
When the house is on fire, the kids are driving you nuts, the job is in jeopardy, the health challenge is serious, the finances are failing – it is amazing how even the ungodly will turn their attention heavenward and pray. As a pastor, I have friends who claim to be non-believers who will still call me and ask me to pray when trouble comes their way. The old saying is correct: there are no atheists in fox holes. When our lives are threatened, we pray. 
But is that all prayer is?
Is talking with God only for desperate people in desperate moments?
We have all said prayers that go something like this: "God – it's me – I know it's been a while – but I need your help – if you will come through for me, I will …"
Is that all there is to prayer?
Or is there more?"
We have over-complicated prayer! In its purest form, it is talking with and listening to God. Most of us have the talking part down. The listening part – not so much!
Chairtime is the story of how I am learning to listen to God. It is a simple story of a simple man learning a life changing truth. God wants to speak to us! He will if we get in the chair!
Author: Dan Southerland
DOWNLOAD PRODUCT INFORMATION:

 
If you purchase a download product, you will receive an email that includes a download link for your product. To download your product(s), click the link inside the email to begin the process. NOTE: Depending on your connection speed, some larger file downloads may require several minutes to complete. Each product download will display how many attempts and/or for how long the download link will be available.