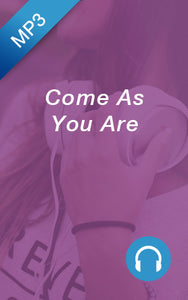 Come As You Are
Mary Southerland

The most common invitation offered by Jesus Christ is simply to "come." He doesn't ask us to fix what is wrong or expect us to clean up our lives. That is His responsibility. Jesus loves us just as we are - in the midst of our sin and frail humanity. When we come to Him with a "yes" in our hearts, He lovingly transforms the broken places into beautiful scars of healing and new life. "Come As You Are" is an encouraging message filled with hope and God's love and power to help us be all He created us to be.



DOWNLOAD PRODUCT INFORMATION:
If you purchase a download product, you will receive an email that includes a download link for your product. To download your product(s), click the link inside the email to begin the process. NOTE: Depending on your connection speed, some larger file downloads may require several minutes to complete. Each product download will display how many attempts and/or for how long the download link will be available.