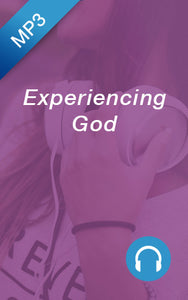 Are you experiencing God... today? God works in a limited world to demonstrate His unlimited power. It is sometimes easy to see Him in the miraculous events of life when, in reality, God's greatest work is in our everyday lives where He takes the ordinary and uses it to create a magnificent design! We are experiencing God daily! We simply don't know how to recognize Him. "Experiencing God" will lead you to discover God's presence in your daily life, to recognize and follow His plan instead of your own, and to discover how to appropriate God's power and resources in your life.


DOWNLOAD PRODUCT INFORMATION: 
If you purchase a download product, you will receive an email that includes a download link for your product. To download your product(s), click the link inside the email to begin the process. NOTE: Depending on your connection speed, some larger file downloads may require several minutes to complete. Each product download will display how many attempts and/or for how long the download link will be available.