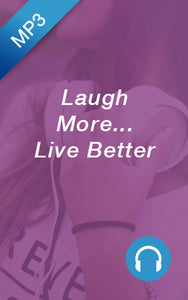 Laugh More...Live Better
Mary Southerland swam against an undercurrent of unhappiness until she discovered how she was created for joy! "Laugh More... Live Better" is a refreshing message filled humor and principles that will empower you to:
Minimize "joy-stealers" in your life, such as stress, unrealistic expectations and harmful relationships.
Relish the benefits of joy, such as healing, strength, relaxation, and encouragement.
Adjust your focus to appreciate the small wonders that each day holds.
DOWNLOAD PRODUCT INFORMATION: 
If you purchase a download product receive an email that includes a download link for your product. To download your product(s), click the link inside the email to begin the process. NOTE: Depending on your connection speed, some larger file downloads may require several minutes to complete. Each product download will display how many attempts and/or for how long the download link will be available.