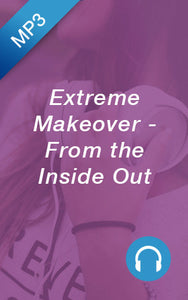 Extreme Makeover - From the Inside Out
How to Experience Personal Renewal
Dan and Mary Southerland
I stood, washing the dishes, listening to the local Christian radio station when the words of the song pierced my heart, "Bring back the new again. I want to see You again." I knew God was speaking to me. When had I lost the wonder of knowing God? And how could I get it back? Have you ever felt that way?
Dan and Mary Southerland deliver a powerful message that will make you hunger and thirst for God and for personal renewal ... and then show you how to experience the power and presence of God in a new way!
DOWNLOAD PRODUCT INFORMATION: 
If you purchase a download product, you will receive an email that includes a download link for your product. To download your product(s), click the link inside the email to begin the process. NOTE: Depending on your connection speed, some larger file downloads may require several minutes to complete. Each product download will display how many attempts and/or for how long the download link will be available.