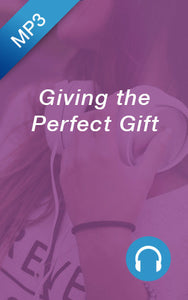 Giving the Perfect Gift - MP3 Download
"I am flat broke and Christmas is just around the corner!" Do those words sound familiar? Don't let gift-giving become a chore instead of a joy. In this message, "Giving the Perfect Gift" you will discover how to give ten wonderful gifts without spending a penny!
DOWNLOAD PRODUCT INFORMATION: 
If you purchase a download product, you will receive an email that includes a download link for your product. To download your product(s), click the link inside the email to begin the process. NOTE: Depending on your connection speed, some larger file downloads may require several minutes to complete. Each product download will display how many attempts and/or for how long the download link will be available.