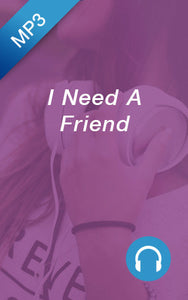 I Need A Friend - MP3 Download
Mary Southerland
Relationships are very important to God. In fact, He spent most of His time on earth deepening relationships with a few - not the crowds. God created us to need each other and yet, true friendship seems so hard to find. Friendship is the springboard to every other love and the foundation for every healthy relationship.
"I Need a Friend" is based on the beautiful portrait of friendship found in the lives of Ruth and Naomi and explores ten powerful keys that will help you be a true friend and find true friendship.
Keys include:
Learning how to confront the right way
Discovering the power of transparency
Choosing to take a riskBeing willing to really listen
More... 
DOWNLOAD PRODUCT INFORMATION: 
If you purchase a download product, you will receive an email that includes a download link for your product. To download your product(s), click the link inside the email to begin the process. NOTE: Depending on your connection speed, some larger file downloads may require several minutes to complete. Each product download will display how many attempts and/or for how long the download link will be available.