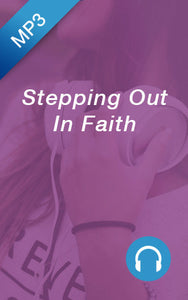 As a pastor's wife, Mary Southerland found it easier to play religious games and hide behind masks. One day, she was too tired to go on and was forced to step out in faith. Experience how Mary's life was totally redefined with God-confidence. Her message will help you:
Learn how God's promises can strengthen your faith and weaken your doubts.
Eliminate wearing masks and feel free to be yourself.
Remove the sources of fear in your life to cultivate an attitude of trust.
DOWNLOAD PRODUCT INFORMATION: 
If you purchase a download product, you will receive an email that includes a download link for your product. To download your product(s), click the link inside the email to begin the process. NOTE: Depending on your connection speed, some larger file downloads may require several minutes to complete. Each product download will display how many attempts and/or for how long the download link will be available.