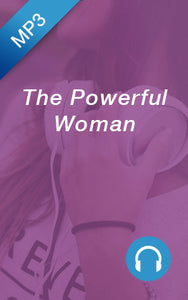 What is your greatest weakness? Have you ever considered the idea that your weakness may very well become your greatest strength? "The Powerful Woman" is the story of Queen Esther, a frightened and insecure teenager who became a powerful woman. In fact, God used her to save an entire nation. This message will teach you how to live in God's strength instead of your own, how to step out in faith in order to live life to its fullest and how to use the circumstances in your life, good or bad, as stepping stones of success.


DOWNLOAD PRODUCT INFORMATION: 
If you purchase a download product, you will receive an email that includes a download link for your product. To download your product(s), click the link inside the email to begin the process. NOTE: Depending on your connection speed, some larger file downloads may require several minutes to complete. Each product download will display how many attempts and/or for how long the download link will be available.